Zion's Emerald Pools Hike
The weather forecast was showing rain showers for the majority of the day but we decided to take a chance and head on out to Zion National Park to do a little shopping, and take a chance on a short hike, hoping the weather would hold out. 
Zion is only about a 45 minute scenic drive from St. George, Utah.
The shuttles are running now through summer for the majority of the park and you are required to park at either the park entrance or one of several locations in the town of Springdale. It's a 40 minute shuttle ride from the first stop to the last stop and the shuttles run both directions at 15 minute intervals. You aren't required however to take a shuttle if you are heading over to the east side of the park towards Mount Carmel Junction.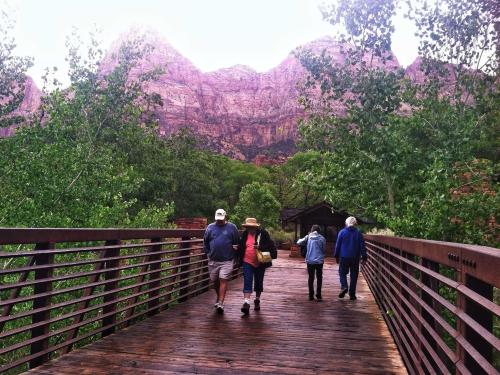 We ended up parking in Springdale and walking through the park entrance to get onto the shuttle. It started to lightly rain on us but we weren't discouraged. We rode the shuttle up to the 
Emerald Pools Trail
 Head about 4 shuttle stops into the park. The trail starts at the Zion Lodge. You will cross over a bridge and the trail is paved leading to the lower Emerald Pool at the base of the cliff. The Emerald Pool hike is fairly steep in some areas but we saw a variety of age groups from younger kids to older adults. It could be too difficult for some as there are areas that are pretty steep and rocky. You can proceed to the middle emerald pool and for a little more of a challenge, continue to the upper pool making for about a 5 mile hike round trip.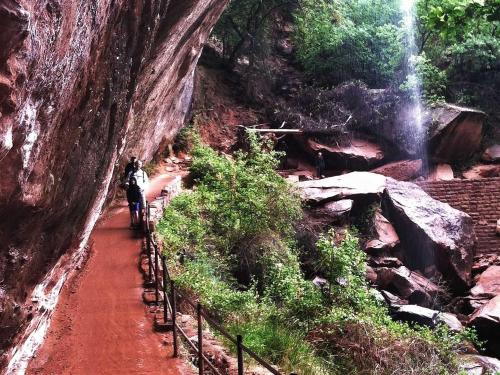 There were beautiful water falls all around us on the hike which intensified the experience even more and made trudging through a bit of mud and getting soaked worth it! Loved this area in the above photo. We walked right under one of the water falls. It's a pretty heavily hiked trail so get there early and beat the crowds for the best experience.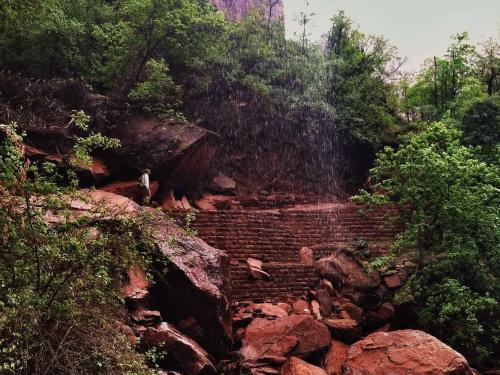 Beautiful old stone wall with a little waterfall flowing over the side.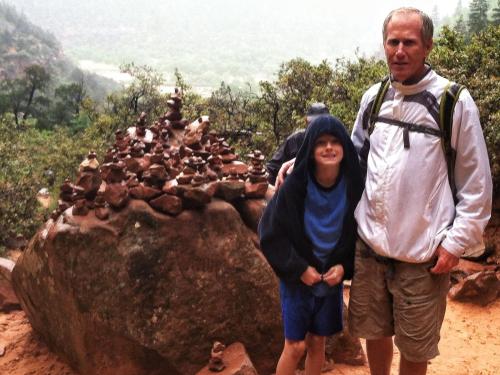 .