Zion Narrows - Riverwalk
June 16, 2018
|
Lavafall Admin
Zion's The Narrows - Riverwalk Hike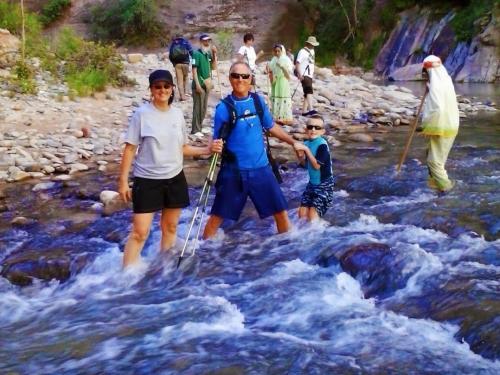 One of the most popular hikes on a hot summer day in Zion National Park is The Riverwalk Hike. It is the last stop on the park shuttle; about a 40 minute shuttle ride into the park. It's only a 15 minute drive by car but from spring through late autumn, it is mandatory to ride the park shuttle due to  heavy traffic and limited parking space.
As always, be sure to wear comfortable, non slip hiking shoes or good hiking sandals such as Teva's - especially if you're planning on hiking in the water! 
The first mile of the hike is on a paved walkway along the river's edge and is flat and easy. When you reach the end of the paved portion, you can continue into the river to hike farther up towards the area of the hike called The Narrows where the 2,000' sandstone cliffs "narrow" to about a body's width for a section of the hike. 
If you do decide to continue on into the river, you may want to bring a hiking stick or take one of many hiking sticks that people abandon as they exit out of the water.
Hiking in the water is very rocky and slippery. It's not that difficult but if you have problems with balance or have difficulties with your feet and/or legs, this may not be the hike for you.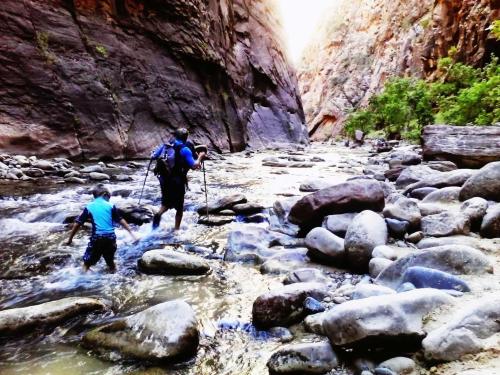 The canyon is cool in the middle of summer and a welcome break from the desert heat. Generally by summer time, the water has receded to about mid calf and at the deepest, waist high.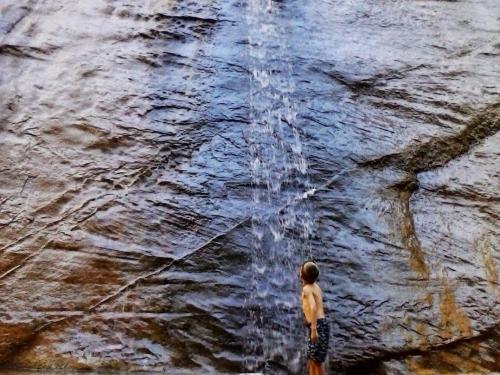 There are several beautiful waterfalls flowing down the cliffs; a sight to behold. Be cautious during monsoon season however as flash floods are common and there is danger of flooding in this area. There is usually a sign posted giving the % chance of storms.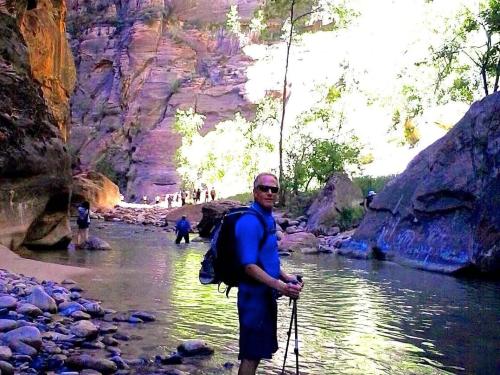 Be sure to bring plenty of water and a snack. There are lots of good areas to step out of the water into sandy spots with big boulders to sit and eat a picnic lunch. Give yourself a good 3 hours for the hike if you're hiking at a leisurely pace. Super fun!! One of our families favorites!